Research has shown that managing the relationship between stakeholders is the most critical factor of a successful initiative.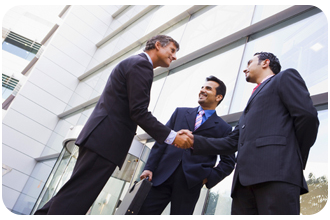 It is no secret that many complex public–private and public-public business arrangements fall short of meeting stakeholder expectations in the long haul. The primary causes are rooted in rigid transactional orientation and poor oversight models of management. Whether they are PPP and outsourcing agreements, MOUs, accountability agreements, contracts ,SLA,  business arrangements are structured as static transactions or systems that do not facilitate collaboration and don't respond well to change and evolution.
Today, business arrangements are becoming more sophisticated than ever. As a result, relationships now require greater flexibility, adaptability, and increased collaboration to achieve optimum sustainable performance. By positioning the relationship among stakeholders at the heart of delivery, oversight and performance management, business arrangements are structured and managed as collaborative and adaptive system that drive change and achieve improved outcomes with lower risk.
---
The Blueprint For A Different Approach
The SRS Relationship-based model of Management supports the development and management of an adaptive business relationship among partners, with whom cooperation and ongoing alignment are essential to achieving joint success. The Framework has been applied with notable success in public-private relationships, as well as in public-public relationships, enabling organizations to deliver improved outcomes consistently.
The SRS Relationship Management Framework takes relationship management from point-to-point conversations to a system of structured and coordinated interactions that delivers improved performance and better value for money.
---
The SRS Relational Model – An ISO Standard
The SRS Relational Model for collaborative business relationships operationalizes the newly published ISO 44001. The SRS Training program provides a roadmap to successfully operationalizing the standard at both the corporate level and more importantly at the localized "specific" relationship level where critical frontline collaboration actually takes place.
---
Who Should Take This Training Program?
This course is recommended for Public and private sector executives, relationship managers, procurement managers, outsourcing advisers, and managers involved in the planning, sourcing, negotiations or management of complex business arrangements.
---
Transformational Training Program Focus
This training program offers a transformational experience and  will provide attendees with a systematic approach and model for establishing and managing collaborative and adaptive relationships. As they progress through the program, they will gain the knowledge and skills to plan, source, build and manage public-public and public-private relationships effectively.  The training program will provide attendees with the tools to shift the organizational mindset to create a culture of collaboration and trust.
The training program covers two broad types of relationships:
Client-Vendor Relationships: Such as operations management arrangements, Alternative Service Delivery (ASD), Public-Private Partnerships, (PPP), Commissioning, Outsourcing, Futuresourcing™, Major Capital Projects Delivery, and In-Service Support (ISS) contracts; and
Inter-Public Sector Relationships: Such as Shared Services, Public Sector or NGO Delivery Partners, Arms Length Agency Relationships, Department-Agency Relationships, Transfer Payments, and other Intra-Public Sector Arrangement.
---
Course Methodology
The courses delivery employ an advanced method of learning through a combination of lectures and integrated team workshops. The workshops feature real life, current complex business arrangements in the public and private sector referencing actual casework and related models.
---
Which Course Is Right For You
SRS is currently offering the following five courses. Please contact an SRS Representative to develop a tailored training program that will meet the immediate needs of your organization and your partner's relationships.
RCML – Relational Contracting and Relationship Management

Leadership Team
This executive 1/2 course provides leadership team members with an introduction to Relationship Management, ISO 44001 and how to establish and manage highly collaborative relationships within their organizations and with external partners and key stakeholders
RCME – Relational Contracting and Relationship Management 

Executive
This one-day course provides senior management of the public and private sector with an overview of the relationship-based model of contracting, ISO 44001 and how to establish and manage collaborative relationship management frameworks in existing as well as new strategic partner relationships.
ICWC – Managing Cultures & Behaviours in Collaborative Relationships

(Offered by ICW Canada)
The foundation for robust and efficient collaboration relies on both the operating processes and the interactions of the parties involved. This two-day course focuses on providing insight into the impact that cultures and behaviors have on performance, including how to identify, monitor, measure, and address both positive and negative behaviors.
RCMP – Relationships Management, ISO 44001, Relational Contracting
(KPMG-SRS)
Professional
(RCM Certification course)
As SRS's flagship training program, this three-day course provides program directors and managers, senior program and project managers, procurement professionals and relationship managers with an in-depth understanding, know how and technical skills to effectively employ and operationalize the relational contracting model, ISO 44001 and collaborative working to establish and manage adaptive and collaborative business relationship that will deliver exceptional performance.  Offered as a certificate program, upon completion of this course and passing a comprehensive exam, attendees would receive a certification in ISO 44001 Implementation and Relational Contracting Management.
ICWL – ISO 44001 Collaborative Leaders Course

(Offered by ICW Canada)
This 4-day course helps senior leadership team gain the knowledge and skills to develop internal champions/facilitators to lead and support ISO 44001 implementation programs.